Campaign exposes Kari Lake's pro-mask, pro-lockdown positions on COVID-19
April 21, 2022
Today, the Karrin for Arizona campaign announces a new website – CovidKari.com – detailing Kari Lake's hypocrisy on pandemic-related mask mandates and shutdowns.

As a candidate, Lake talks tough about opposing masks and stay-at-home orders during the pandemic. But, as a broadcast "journalist" in Phoenix, Lake used her massive platform to scare Arizonans into compliance with government lockdowns as she encouraged people to wear masks and stay home.

"Kari Lake isn't just fake, she's a total phony. And, if elected, she will betray Arizona conservatives," said Karrin Taylor Robson. "We already knew about her liberal past donating to Obama and reportedly knocking doors for him during the 2012 campaign, as well as Lake's support for a plan to grant amnesty to millions of illegal aliens. Now, based on her own past comments, it's clear Kari Lake is not being honest with Arizona voters and her supposed opposition to COVID-19 masks and stay-at-home orders is simply one more role being played by this television actress."
"Not Hype Nor Hoax"
With one tweet in the early days of the pandemic, Lake declared Covid-19 "not hype nor hoax," and advocated that Arizonans "stay home as much as possible and practice extreme social distancing."
"Binge Watch Netflix"?
Lake was at it again with another tweet when she mocked the suffering of Arizonans losing their businesses and livelihoods to the pandemic as shutdown mania spread even faster than the virus in spring 2020. "If you haven't heard or haven't figured it out yet," Lake snarked, "it's time to stay home." As a news anchor able to work remotely from her own home, Lake clearly had no sympathy for Arizonans not so fortunate: "Look at it as downtown w/ your family or a chance to binge watch Netflix."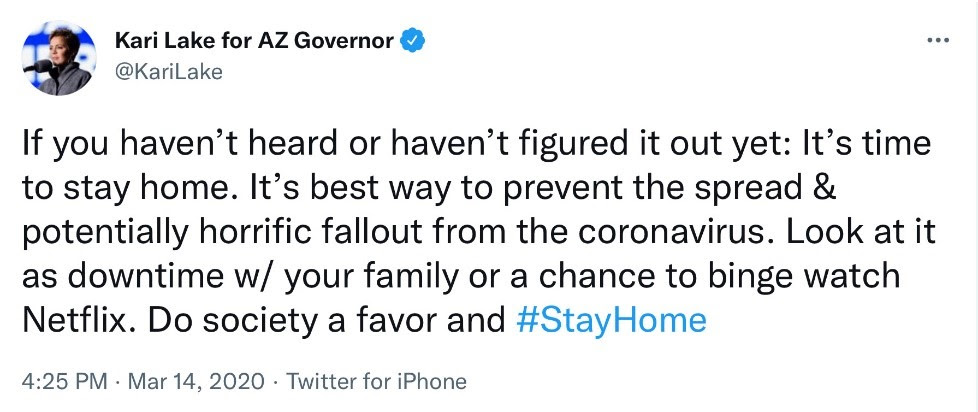 "The Sacrifices Ahead Are Necessary"
Remember "15 days to slow the spread" and all of the other nonsense spouted by government officials who pretended to know more than they did? Remember how regular Americans who questioned what was being done to them were belittled by the mainstream media?

Lake was among the worst offenders. She sounded more like MSNBC than FOX when she took to Facebook to declare "the sacrifices ahead are necessary." Lake even mocked the suffering of Arizonans losing their businesses and ability to earn a living as she posted: "Your grandparents were called to war. You're being called to sit on the couch. You can do this."
"Like Discovering the Holy Grail"
Candidate Kari sets masks on fire and stomps them under her designer boots. But, what about pre-campaign Kari? Not so much.

In fact, Lake was among the most enthusiastic mask-wearers and boosters. In an April 3, 2020, tweet, she declared "my family and I have been wearing masks for a month or more when we go to the store even though people have probably laughed at us." That same day, Lake tweeted her joy at finding a pack of N-95 masks. "It was like discovering the Holy Grail. The clouds parted and the angels sang when I found them."
Check out CovidKari.com for additional examples of Lake's hypocrisy.
###